AXIS-QVS: Compact Time-Resolved Spectrometer
New PHOTONIS intensified streak tube

Available with S20, S25 and S1 photocathode

High Resolution Imaging Spectrograph

12-bit CCD coupled by fiber optics

Full calibration on a femtosecond laser
Transient Absorption Spectroscopy

Photoluminescence Studies
All-In-One Instrument:
AXIS-QVS is a fully integrated instrument composed of a spectrometer, a streak tube and a CCD camera. Light from the experiment is sent through the spectrometer and dispersed on the photocathode. The spectrum is then swept and recorded with the CCD camera.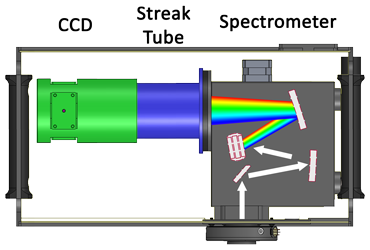 This streak camera uses a new generation of streak tubes based on the 75-year night vision heritage of PHOTONIS.
The tube is built according to high quality standards and features:
Picosecond time resolution
High spatial resolution
Integrated input slit (no need for a mechanical slit)
High-gain internal microchannel intensifier
Ruggedized for harsh environment
It can be built with different cathodes and matched with a spectrometer grating for optimal throughput:
Number of spectral points in a streaked image:  135
Spectral range of a streaked image:  315, 155, 75 nm (with grating: 150, 300, 600 gr/mm)
Spectral resolution:  2, 1, 0.5 nm (with grating: 150, 300, 600 gr/mm)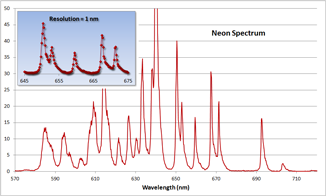 Number of time-resolution units in screen (Nt):  275
Available Ranges (ΔT):  1 ns to 1 ms
Single-shot Time Resolution: δt = ΔT / Nt = ΔT / 275 * Limited to 5 ps
| | | |
| --- | --- | --- |
| | Standard Sweep Unit | MHz Sweep Unit |
| Trigger pulse | Electrical | Electrical |
| Requirements | 5-10 V in 50Ω | 5-10 V in 50Ω |
| Maximum repetition rate |  < 100 Hz | 2 MHz |
| Jitter |  < 15 ps RMS |  < 15 ps RMS |
Readout type: CCD Digital camera
CCD chip size: 1024×1392 pixels; 7 mm x 9 mm
Digitizer: 12 bit
Coupling to streak tube: 1.8:1 Fiber optic taper
Normal sweep
The sweep crosses the whole screen and ends outside.
Timing mode
The sweep alwa