AXIS-SXR: 4 Mpix Soft X-ray sCMOS camera
AXIS-SXR is a new soft x-ray sCMOS camera for measurements from 20 eV to 2 keV. This camera was developed and characterized by the detector group and SEXTANTS team of SOLEIL Synchrotron (France). It is based on a new backside illuminated scientific CMOS (BSI-sCMOS) which is able to acquire low noise 4 Mpix images with a frame rate up to 30 Hz through its optical link.
It is built to sit entirely under vacuum. For a fraction of the price, it is more efficient than the high-end x-ray cameras presently on the market.
We now offer a choice of 3 different sensors to suit your needs.
The mechanics have been designed to allow the user to easily change the detector in case of an experiment mishap or if the experiment requires another type of sensor.
As for software, a generic control application is provided. A SDK and a Tango device are also available.
We also propose a flanged version so it can be mounted on a vacuum chamber or spectrometer.
Soft x-ray scattering / ptychography using synchrotron, XFEL or HHG sources

Soft x-ray spectroscopy (RIXS, …)

Transient EUV/VUV absorption in molecules
DETECTOR SPECIFICATIONS : 
Available
Sensors
STANDARD
GSENSE400 BSI
EUV-Enhanced
GSENSE400 BSI
EUV-Enhanced
GSENSE2020 BSI
Pixel
2048 x 2048 (11 µm)
2048 x 2040 (6.5 µm)
Size
22.5 mm x 22.5 mm
13.3 mm x 13.3 mm
Frame Rate
24 fps
35 fps
Exposure Time
21 µs – 10 s
14 µs – 10 s
Full Well Capacity
85 ke- (Low Gain mode)

30 ke- (HDR mode)

2 ke- (High Gain mode)

60 ke- (Low Gain mode)

30 ke- (HDR mode)

1.8 ke- (High Gain mode)

Readout Noise (rms)
1.7 e-
1.3 e-
Dark Current
0.25 e-/p/s (@ -25 °C)
0.1 e-/p/s (@ -25 °C)
Measured QE

Ref: K. Desjardins, H. Popescu, P. Mercère, C. Menneglier, R. Gaudemer, K. Thånell, N. Jaouen
AIP Conference Proceedings 2054, 060066 (2019)

K. Desjardins, K. Medjoubi, M. Sacchi, H. Popescu, R. Gaudemer, R. Belkhou, S. Stanescu, S. Swaraj, A. Besson, J. Vijayakumar, S. Pautard, A. Noureddine, P. Mercère, P. Da Silva, F. Orsini, C. Menneglier and N. Jaouen
J. Synchrotron Rad. 27 (2020)

Ref: T.Harada, N. Teranishi, T. Watanabe, Q. Zhou, J. Bogaerts and X.Wang
Applied Physics Express 13, 016502 (2020)

Ref: T.Harada, N. Teranishi, T. Watanabe, Q. Zhou, J. Bogaerts and X.Wang
Applied Physics Express 13, 016502 (2020)
MECHANICAL SPECIFICATIONS
Dimensions:

W x H x D (including water connectors)

11.4 x 10.2 x 21.5 cm

Designed to fit in a 150 mm tube (DN160CF flange).

Weight
3 kg
Cooling
Water
| | |
| --- | --- |
| Vacuum compatibility | at least 3 x 10-7 mbar |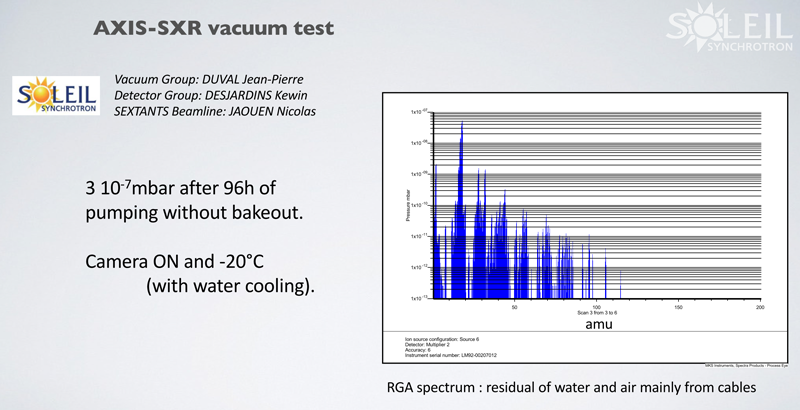 For vacuum side:

2 ST-ST optical fibers (1m OM1+ tight buffer)
1m DB9 cable

Optical USB3 card for PC

For experimental chamber: vacuum feedthrough on DN63CF (4.5″ OD) or KF50 for power and optical communication